Shell used Facebook Messenger Chatbots to Sell Tickets to its Eco-Marathon Event
Chatbots are becoming more and more interesting to marketers, as they start thinking about how to engage audiences in a real way.
Shell wanted to push its message of sustainability, with a combination of live events and social media. 'Make the Future Live' was an event held at Queen Elizabeth Olympic Park in London, about bright ideas for a lower-carbon energy future.
As part of the event, The Shell Eco Marathon is a unique global competition that attracts thousands of young engineers and students and challenges them to create the ultimate energy-efficient vehicle.
To sell tickets to the event, Shell ran an ad on Facebook. When a user clicked on the Facebook ad, instead of going to a website to buy a ticket, the user went straight to the Shell chatbot within FB messenger.
See the user journey below: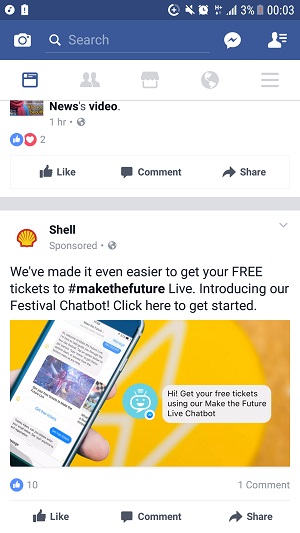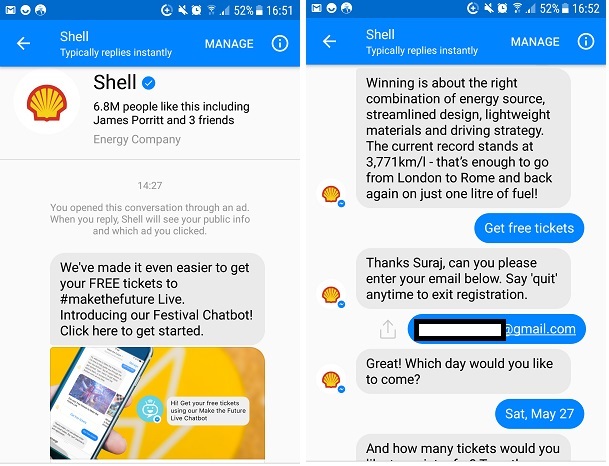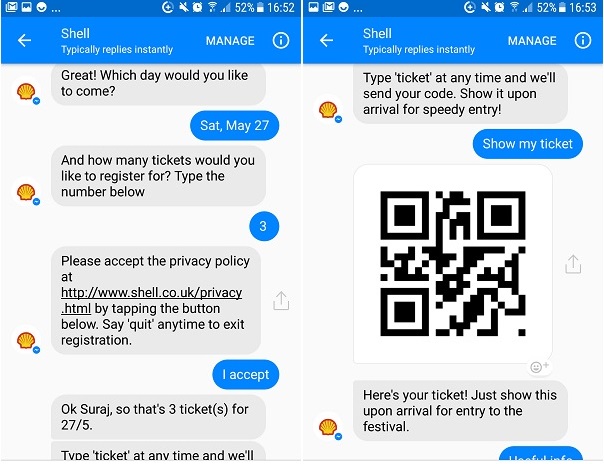 The results
• 25,000 visitors over 4 days
• 2,300 students competed
Norman Koch, General Manager, Shell Eco marathon said: "We in Shell run the Make the Future Festival because we want to encourage young people to think about the energy challenge, how we can produce more energy with less CO2."
Sinead Lynch, Country Chair, at Shell, said: "We're really keen for millennials to start thinking about the future of energy because they are the people who are going to run this country."
How can you utilize chatbots within the Facebook Messenger app?